Announcement
2019 Sellersville Belles Gold Named
More editing options
After several weeks of workouts, humid workouts, rain outs, and even workouts in the rain, the Sellersville Belles Gold have named the players and coaches for the upcoming 2018-2019 season. This is a team that features experienced players and new players; old and young; fast and those working on getting faster; but all with an enthusiasm and passion for the game that "marked them" as Belles from the start.
The coaching staff will also see some changes as the year progresses as Associate Head Coach Kelsey Detweiler(Coach KD) takes charge of this team of talented young ladies. Coach K will still be involved, but more as GM than as head coach, Josh Moyer will also stay involved with college liason responsibilities, and Gary Koenig with catching training and coaching. Joining her as well, is her "best softball friend that she ever had," Christine Scherr. Both were raised Belles, and bring to this new team both a respect for the heritage that is "Belles Ball" and a flair of their own.
This will be an exciting season to watch and be a Belle. Come on out and see this team in action.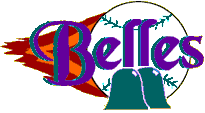 Comments
There are no comments for this announcement.